The best way to get a loan with bad credit is to improve your credit score.
Just because you have bad credit now doesn't mean you will always have bad credit!
It's in your power to re-build your credit score.
Car Loans are one of the ways to help get back on the road to good credit.  A mortgage or car loan is a secured debt which means the lender has the right to foreclose on your home, or repossess your car, and this is why lenders are willing to give you a second chance.

Five tips for buying a car with bad credit

Have realistic expectations. Know what your budget and the amount of a monthly payment you are able to make towards the loan. Use our Payment Calculator to help do the math.

Get Pre-Approved for a loan. This process is Free, Quick & Easy. Knowing that you have been pre-approved takes away the pressure of going to the dealership empty handed. Know before you go!

Consider buying a Pre-owned car. Although we will explore the option to purchase a new car buying a used car may be a better fit in your budget.
Do you have a co-signer if needed? If you know your credit score is low adding a co-signer to the loan may help get you approved. The co-signer is the guarantee of repayment, therefore the co-signer must have a good credit history. Applying for a loan online and getting pre-approved for a loan will help you to know if you will need a co-signer.

Five tips on how to start Rebuilding a Bad Credit Score
Pay your bills on time. Your credit score may start going down once you are 30 days late paying a bill. It's a good idea to set up auto pay with your bank for your car payment, home mortgage, and student loan payment. Additionally you can set up an auto pay of the minimum amount due for a credit card, rely on this only to cover yourself to avoid an accidental late payment fee.
Keep aware of your credit card balances. Revolving debt, such as credit cards can easily get out of control. A credit card is not a financial lifeline; it should only be used to charge items you could pay for if the credit line were not available.
Use credit cards wisely.  Stay below your credit limit. No matter if you are paying off your credit card monthly, your credit score can be lowered if you are at your credit limit on any given card. Try to only use 25% or less, of your available credit, at any given time. If you carry a balance that exceeds 70-75% of your credit limit it can be a red flag and may harm your credit score.
Consolidate your Loans. If you have too many accounts with outstanding balances your credit score can be tarnished. Try to consolidate your credit debt to one card. Before doing this read the fine print or call your credit card company and ask questions ahead of consolidation.
Know what's on your credit report. You can get a free credit report every year at annualcreditreport.com. Make sure your credit report shows current information and there are no mistakes that can impact your credit score. See Federal trade Commission's "How to Dispute Credit Report Errors"  at https://www.consumer.ftc.gov.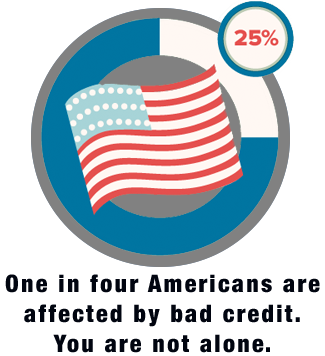 LET'S GET STARTED! CONTACT US
* Indicates a required field