At Larry H. Miller Colorado Jeep, we will help you make the decision that is right for you. Let's get started!
Leasing is often a lifestyle or business choice, take a moment right now, and ask yourself a couple simple questions:
Do you prefer to drive a new vehicle and keep up with the latest advancements in technology, and safety features or is driving a late model car fine for you?
What can you afford for monthly payments, and how does that equate to the type of car you would like to be driving?
What is the Difference Between Buying and Leasing a vehicle?
Buying a New Car
When you

buy a new vehicle

, you pay for the entire cost of the vehicle, regardless of how much you drive it or how long you keep it. 
Your monthly payment will be higher if you buy vs lease, and you usually have to make a down payment, pay sales tax, and will have an interest rate to contend with. 
When it's time to get a new vehicle, because of depreciation your car will be worth less. In the long run you'll get less return of your original investment.
Leasing a New Car
Leasing a new Jeep at Larry H. Miller Colorado Jeep, generally allows you to get more car for your money, and you may have the option of no money down.
When you lease a new vehicle in Denver, you only pay a portion of the vehicle's cost, which is the part that you "use up" during the time you are driving it. 
Leasing is a form of financing and is not the same as renting. 
You may have a choice of not making a down payment.
You pay sales tax only on your monthly payments (in most states), and you pay a financial rate, called money factor, that is similar to the interest on a loan. 
Keep in mind you may be required to pay fees that you don't have to pay when you buy a new car. 
You make your first payment at the time you sign your contract, which is for the month ahead. 
At lease-end, you may either return the vehicle, or purchase it for its depreciated resale value. 
You may be charged a lease-end disposition fee, and for any excessive mileage wear-and-tear.
There are positives to not owning your vehicle. Instead of worrying about selling your vehicle some day, all you have to worry about is routine maintenance.
Lease or Buy? What's Important to You? What Are Your Priorities? 
All of us have different personal styles, objectives, and priorities-- in cars, life, and financial concerns. Whether to lease or buy your decision will be based on your own lifestyle and with your own priorities in mind. What's right for one person may be totally wrong for another. Save time
get pre-approved
to lease or buy a car or f
ind out the
value of your trade-in vehicle
.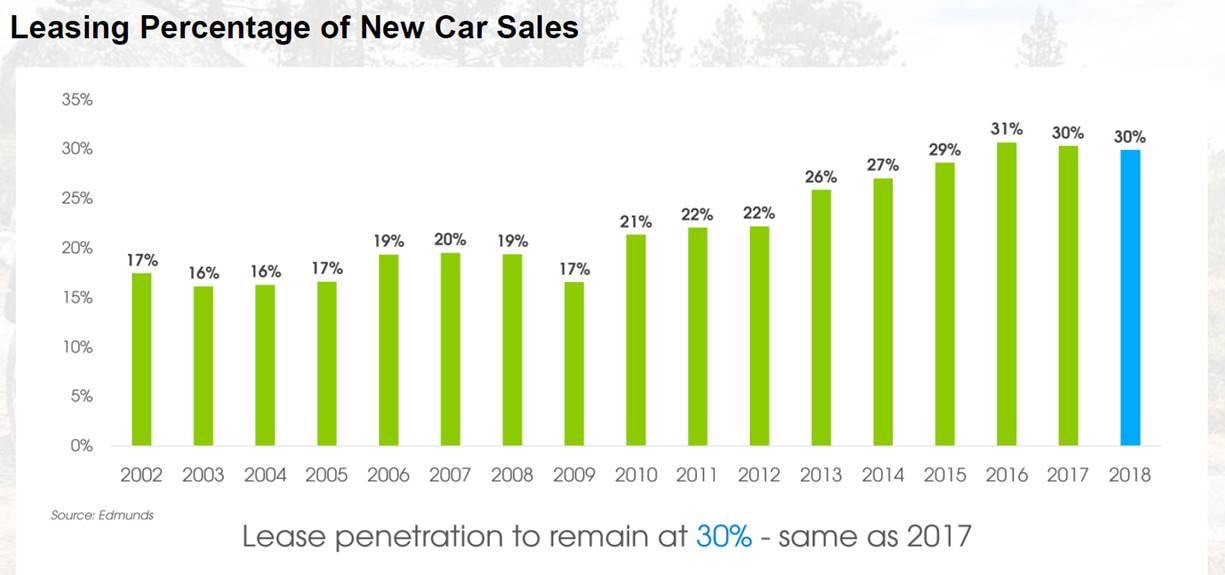 Leasing is designed to be quick and easy! Get in and get out with a new car, truck, or SUV today!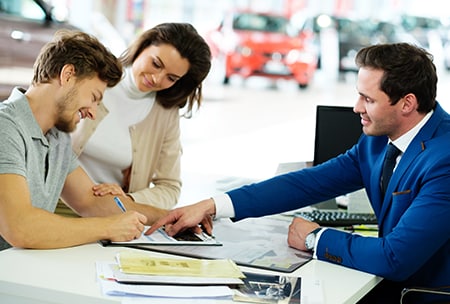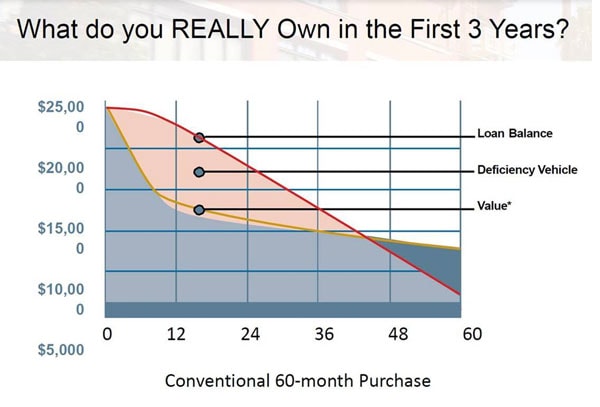 More consumer are leasing because of these benefits:
Lower gas prices at the pump not only decreases the cost to own, but also makes it possible for you to lease a larger car for the family. 
Lower lease payment. The monthly payment from retail to a lease can vary as much as $120-$170 per month.
New technological advancements happen with every model year. Whether it is a design element, the latest advancement in fuel economy, or more importantly a safety feature proven to provide greater assurance to protect your family on the road.
Car leasing has it's own language. Below are some common leasing terms and definitions.
Mileage Allowance: The number of miles you can drive during the period you lease the vehicle lease without penalty.  It is stated in terms of monthly allowance, or the total cumulative mileage.  Typical mileage overage fees if you go over the allowance are 15-25, or .35, if it is a high performance vehicle, cents per mile.
Acquisition Fee: The fee charged by leasing companies and banks to cover costs of administering the lease terms.  They average about $400 and are rarely negotiable.
Adjusted Capitalized Cost: This is the amount you are financing in the lease or also known as the bottom line.  The cost of the car you are leasing, including the tax, title, and license, minus any down payment, trade allowance, or rebates.
Capitalized Cost Reduction: A down payment or other credit that lowers the capitalized cost of a lease. The down payment may come in the form of cash and/or a rebate, trade-in allowance or other credit.
Closed-end lease: A lease that doesn't require the consumer to buy the vehicle at the end of the lease for the predetermined residual value. Closed-end leases, which are by far the most common type, usually allow lessees to buy the car if they want, as opposed to walking away from it, or trading it in.
Money factor (or interest rate): A fractional number, such as .0075, used to calculate a lease fee or charge. The money factor is based on a formula that lessors devise to determine their profit. Buyers should look for a lower number. While lessors are not required to disclose the money factor, you can insist on knowing it before entering a lease. You can get a rough equivalent of an annual percentage rate if you multiply the money factor by 2,400 to get really close to the actual APR equivalent.  When automakers are running lease specials, the money factor can be as low as .00001.
Residual value: The car's wholesale value, at the end of the lease, which is projected at the beginning by the lease company.  Higher residual values translate to lower monthly payments but increase the cost to buy the car at the end of the lease.  This number is set in stone and you will know how much the residual value is when you enter into the lease.
Single-payment lease: A lease in which you can pay all of the lease fees and payments at the beginning. A likely user is a buyer who could pay cash to buy a car but wants to have a new vehicle every three years or so and doesn't want to bother with selling or trading the old one, or with making monthly payments.  There is often a lower interest rate on the lease since the lease company gets all its money up front.
Contact a Leasing Specialist for more information
* Indicates a required field
We're Here to Help!
We have a team of Leasing Specialists who are trained in all aspects of leasing. We are eager to provide you with all the information you will need to make the decision to lease or buy your next vehicle.  
We will help you learn why so many people are going with the trend to lease their next vehicle. What's right for you? Give us a call to make an appointment with our team, or fill out the form below, and we will help you learn why so many people are going with the trend to lease their next vehicle.