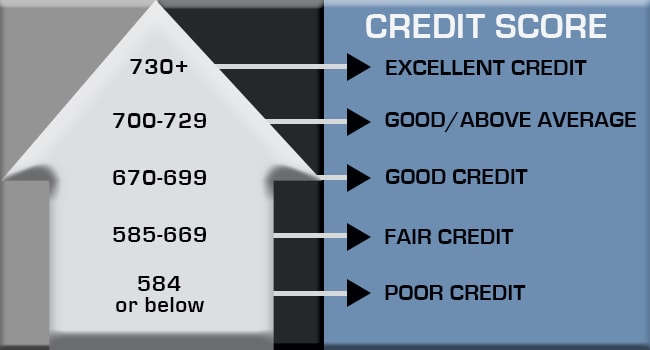 What is bad credit?
Generally speaking "bad credit" is referring to having a
history of late or partial payments
on your credit report. Lending institutions look at this as how likely are you to repay the debt of an auto loan.
What is a credit score?
The standard credit score is called a FICO score.

Credit scores typically range from 300 to 850 (the higher the score the better).
Credit Scores are made up of many factors to help the bank determine if you are a good risk that you will pay back the money you borrow.
Payment History (35%) Lenders want to see if you have paid back other loans full and on time.
Amounts Owed (30%) Lenders may deem people with a lot of debt are risky and may be less likely to pay back a loan.
Length of Credit History (15%) You get a higher credit score when you can demonstrate experience in managing debt. Lenders like to see a long history of responsible borrowing.
Types of Credit in use (10%) What types of credit a person has: credit cards, installment loans, mortgages, etc.
New Credit (10%) It is not a good idea to apply for al ot of new loan applications in a short period of time; that can make you a greater credit risk and lower your score.

How much does it cost to get pre-approved for a loan? It's FREEHow do I get pre-approved for a loan?
The amount of the loan that you will be pre-approved for considers many factors.  However, maroon may get a general idea of the amount by first determining your credit profile.
Will inquiries affect my credit rating?
When creditors check your credit, it places an inquiry on your credit report. If you are shopping around be aware that inquiries add up, and it may have a negative impact on securing a loan. Try to limit your research to 2 weeks.
What are the monthly payments?
If you have an idea of the amount of money you want to finance and the interest rate you will qualify for then use our payment calculator to estimate your payments. Your monthly payment is based upon your credit profile and the vehicle you are purchasing. When repairing your credit look for a less expensive car, and consider that this may be a stepping stone to your dream car down the road.
When I qualify how much is the down-payment?
Again this is based upon a number of factors, unique to all applicants, yet generally speaking if you have bad credit the biggest down payment possible is a positive note that the lenders will consider.
Will a trade qualify as a down payment?
Trade-in vehicles are considered as a down payment, but you still may need to subsidize the down payment depending on the cost of the vehicle and whether there is a lien on the vehicle that you are trading-in.
Do I need a co-signer?
The income and the budget guidelines of the buyer must be met without relying on the co-signers income. However, a co-signer maybe helpful if the buyer does not comply with all credit requirements.
What are the interest rates?
Interest rates are based upon your credit profile and the equity position of the loan.  Havana Credit Center will get you the best rate possible based upon your credit profile.  The higher your credit rating and down-payment the lower your interest rate will be.
I just got denied what do I do?
People can be denied for many reasons, including a high debt-to-income ratio, bad credit history or low credit score. However, there may be a solution if you need a loan right away and know why you were denied. For instance, You may consider a debt consolidation loan if debt is an issue. There are many other steps you can take as well that can improve your credit score and reduce your debt.
Contact us if you have a question we have not answered!
It's never too late to take steps to repair your credit.
Call us at
1-877-833-0248
Let us help you find a vehicle that best fits your needs or fill out the form below and we will contact you!
We will help you get a loan!
* Indicates a required field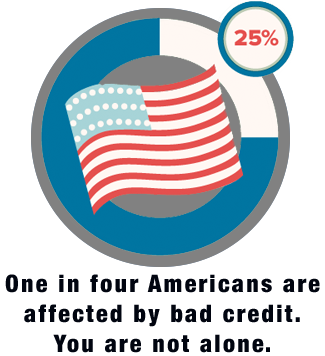 If you're in the market for a pre-owned vehicle, you've come to the right place! Larry H. Miller maintains a quality selection of used cars, trucks, minivans and SUVs at competitive prices.
We take trade-ins everyday. If you cannot find what you are looking for we will help you find a vehicle that best fits your needs.
If you cannot find your ideal vehicle in our current pre-owned inventory, check out our handy CarFinder tool. After specifying a search period (1 to 8 weeks) and providing vehicle details, we'll begin the search process for you and send you a notification when a matching vehicle arrives in our inventory.
*Pre-owned vehicles may be subject to unrepaired manufacturer recalls.  Please contact the manufacturer for recall assistance/questions or check the NHTSA website for current recall information, or check a VIN:  https://vinrcl.safercar.gov/vin